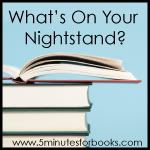 I do not keep the books that I am currently reading on my nightstand.  There are just too many.  And, besides, I rarely read in bed.  So, my desk is standing in as my "nightstand" for this month's edition of "What's On Your Nightstand?" from 5 Minutes for Books.
 
During our family vacation last month, I attended the Women Discipling Women Conference, and picked up a few books there.  Then, on the last Sunday of our vacation, we enjoyed worshipping at Grace Community Church.  And, of course, that included a little trip to their bookstore.  And it was a profitable one, for me, as I once again walked out with an armload of books.  (It's a good thing my husband and I have agreed to include a "book" category in our budget!!  Or maybe not…)
 
I always have multiple books going at once, however, this time even I think it has reached ridiculous proportions!  Be that as it may, here is what is on my "nightstand" this month:
 
Recently Completed:
 
Becoming A Woman of Spiritual Passion

, by Donna Morley
When You Rise Up: A Covenantal Approach to Homeschooling, by RC Sproul, Jr.
 
Reviews coming soon!
 
As a side note, I find it rather funny that my yellow highlighter made it into this picture!  I know people have different (strong!) opinions about marking books, but, personally, I don't like to read without it!
 
Currently Reading or To Be Read:
 
The Joy of a Word Filled Family, by Dr. John Barnett – This is a recent addition to my reading list.  My husband read it not too long ago, and has been raving about it ever since.  I am only a few pages in, but already it looks promising.
 
Womanly Dominion: More Than a Gentle and Quiet Spirit, by Mark Chanski – I am reading this book along with the Girl Talk Book Club.  Jay Adams says (on the back cover) that when he "first looked at it, [he] thought a man couldn't write it!"  Honestly, I kind of thought the same thing myself.  But, it comes highly recommended by Carolyn Mahaney, and even though soccer analogies are completely lost on me, it has been a great read so far.
 
Growing Up Christian, by Karl Graustein – I picked this book up at the Women Discipling Women Conference, and have had a very hard time putting it down!  I am (was?) what Graustein calls a "church kid."  I grew up in a Christian home, was saved at a young age, was actively involved in our church, and even attended a Christian school and college.  The author, a "church kid" himself, has absolutely nailed the potential dangers of "growing up Christian."  But, he also highlights the blessings that go along with being brought up as a "church kid!"  I am looking forward to finishing it, and giving it a more thorough review here on the blog in the near future…Stay tuned!  Update: My review is here.
 
The Quest for Meekness and Quietness of Spirit, by Matthew Henry – This is a repeat from a few months ago…I told you it would be hanging around for a while.
 
The Family Worship Book, by Terry L. Johnson – This book is a wonderful resource for family devotions!  It practically breaks down why you should do family devotions, offers practical help for how to do them, and also includes suggestions and resources for what to do.  It has been a great follow-up to Voddie Baucham's Family Driven Faith.
 
For the Children's Sake: Foundations of Education for Home and School, by Susan Schaeffer Macaulay – In the second chapter the author (who happens to be the daughter of Francis and Edith Schaeffer) says, "Twaddle.  If I were to have to label much educational material today, I'm afraid it would definitely be twaddle.  How colorfully and scientifically our generation talks down to the little child!" (pg. 16)  I couldn't agree more.  So much of what has already been said in this book – and, I am only in chapter 4 – has truly resonated with me, and my own philosophy on Christian education and homeschooling.  I am looking forward to seeing how Macaulay practically works out some of the ideas and convictions that she has shared so far.
 
Raising Children for Christ, by Andrew Murray – Anyone else notice a theme here?  Yes, I am reading a ton on the family, raising children in and according to the Word, and helping them develop a Christian worldview.  More than anything, I want my daughter to grow up to know, love, and serve the Lord.  And, I am always on the lookout for resources that will help me to be the kind of parent that practically points her to the cross.
 
War of Words: Getting to the Heart of Your Communication Struggles, by Paul Tripp – We are going to be reading through this book in our women's Bible study this fall.  Proverbs 18:21 says that "Death and life are in the power of the tongue…"  I am looking forward to a great (and convicting) study! 
 
Big Truths for Young Hearts: Teaching and Learning the Greatness of God, by Bruce Ware – Sticking with my apparent (though completely unintentional!) theme of teaching, family devotions, and parenting…I also picked this one up on our vacation.  But, it is not included in my picture, because my sweet husband seems to have taken over possession of it.  He is planning on reading through it with several other men…so, I don't think I'll actually get my hands on it for a while!  But, on the off chance that he puts it down, I'll leave it on the list, for now…but don't be surprised if it reappears in a few months!
 
The Bible and The Closet, by Thomas Watson & Samuel Lee – I am still working on this one, from several months back.  It is not a quick or easy read.  The publisher says, in the preface, that it is "blessedly and distinctively different from the plethora of light and frothy devotional guides available in our day."  But, are there any better topics in which to invest time and effort than learning how to read the Bible and how to pray effectively?  I don't think so.
  
What's on your nightstand?  Please leave me a comment if you are participating…I'd love to know what you are reading (or planning on reading) this month!  And, don't forget to link up, and join in the fun over at 5 Minutes for Books!