Well, it appears as though I have been taking an unintentional, unplanned, and migraine-induced blogging break.  But, now that I am once again upright, and getting my home back in order, I do have plans to remedy that! 
.
Starting today.
.
I just wanted to draw your attention to a few of my favorite blogs…
.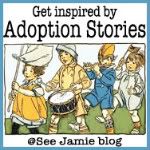 .
You may have seen this button in my sidebar…but I wanted to explain, in hopes that you will click over, and check out Jamie's new series - Adoption Stories!  She and her husband adopted their older daughter last year.  And, she has invited other adoptive parents to share their family's story of adoption…older children, younger children, domestic, international…  You will be blessed by reading these stories!  Maybe, you'll even have one of your own to share…
.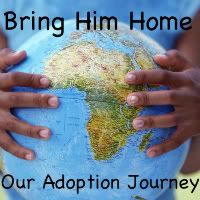 .
This weekend (meaning today and tomorrow), Sandra, at Celebrate Every Day, is hosting an auction, to raise money to help bring home their son, Joel, from Ethiopia.  Stop by her site, and check out the items – and bid, if you are so inclined.  (They also have a few other fundraisers going on this weekend, as well.  If you are in their area, stop by and check it out…if not, please be praying!)
.
And, if your family is planning, or looking for fundraiser ideas for your own adoption, or if you just want to show your support for adoptive families (while also helping financially)… Check out these great shirts by Show Hope, Wild Olive Tees, and Adoption Bug: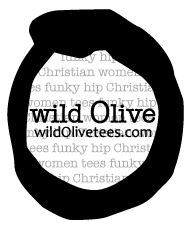 .
And, on a somewhat, but (if you follow my logic) not totally unrelated note…
.
.
Head on over to Gather Inspirit, and check out the "Faith In Parenting" link-up!