I'll blame it on our recent move (because I still can, and I'm going to milk this excuse for all it's worth!)… Â There isn't much on my nightstand right now. Â Usually, I love to have several books going at once. Â But, at the moment, there are a few other things vying for my time and attention…things like finding my way to and from the grocery store, unpacking and organizing our house, to name a few. Â So, maybe this month, you will forgive me for a (very) short list… Â Plus, I don't think I have unpacked all of our books yet!! 🙂
.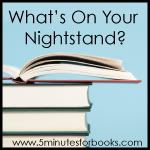 .
But, when I tire of the boxes…this is what is occupying my time:
.
The Bible: Probably the only always-constant on the list. Â As it should be. Â I have gone back to Prof. Horner's Reading Plan. Â It really is one of the best Bible Reading plans, or systems that I have found -Â especially in this chaotic season of life! Â While I've loved the Bible in 90 Days, this plan does not possess the same "pressure" to "keep up." Â If you are looking for a new Bible reading plan (New Year's resolution, maybe?), please, check this one out!
.
Slave: The Hidden Truth About Your Identity in Christ, by John MacArthur: I saw the "trailer" for this book several months ago. Â And, I have been anxiously awaiting it's arrival ever since. Â (Is it just me, or does anyone else think it is kind of funny that books now have trailers like movies?) Â I've already posted several quotes (here and on Facebook) since starting the book on Thursday. Â I am only about halfway through, and already I can say that it is, so, so good!
.
Expository Thoughts on Luke (vol. 2), by J.C. Ryle: This one I am taking (very) slowly. Â Sadly, it has been misplaced in the moving mess, so it has been a little slower than I had originally planned! Â But, J.C. Ryle's clear and insightful observations are just as applicable and relevant to life today, in 21st century America as they were in 19th century England. Â (I believe there are 7 of these commentaries, and someday, I would love to have all of them!)
.
Spurgeon v. Hyper-Calvinism: The Battle for Gospel Preaching
, by Iain Murray: I "stole" this from my husband shortly after he returned from the Shepherd's Conference last year.  He hasn't gotten it back yet.  Here is a little glimpse as to why: "Christians have trials of many kinds but Spurgeon believed that peace of mind comes from faith in the Word of God in all circumstances and on all occasions.  Spiritual stability and the right use of Scripture go together: 'Ye are strong and the word of God abideth in you' (1 John 2:14).  'A true love for the great Book will bring us great peace from the great God.  Nothing is a stumbling block to the man who has the Word of God dwelling in him richly.'" (pg. 24)
.
A Lamp for My Feet: The Bible's Light for Daily Living, by Elisabeth Elliot: One of the few books by my all-time favorite author that I have not yet read! Â This is a six-month "devotional." Â A collection of short reflections for each day, from her own reading and study of God's Word. Â (Confession time? I do not read only the selection for the day. Â I can't. Â I am guilty of reading multiple days- or even months-worth in one sitting!)
.
Little House in the Big Woods
, by Laura Ingalls Wilder: This is our current read-aloud book…so it isn't exactly on my nightstand (not that any of them ever are!), but I am counting it, because I loved the Little House books as a child, and I am enjoying sharing them with Hannah! Â And, she is absolutely fascinated by Laura and Mary! Â She even got several My First Little House Books
for Christmas… Â She loves that she gets to read about Laura and Mary on her own! Â These books, if you haven't seen or heard of them, are selections from the longer books, and beautifully illustrated!
.
———
.
In talking with some new friends the other night, the conversation turned to books, and what we were each currently reading. Â And, let me tell you, their lists were quite impressive! Â I got some great suggestions to add to my to-be-read list. Â But, in the course of the conversation, I was reminded that I don't read much fiction….or, rather, I should probably say, I don't read any fiction. Â But, while I consider theology and non-fiction books "fun" reading, I probably need to temper my reading list with some more creative, lighter, "recreational" titles. Â Any suggestions?