The last time I participated in this meme (way back in January!), my goal was to read 6 books, in addition to my daily Bible reading.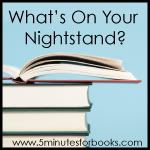 Of that list, I actually completed:
Lord I Want to Know You

, by Kay Arthur

Passionate Housewives Desperate for God

, by Jennie Chancey and Stacy McDonald – **My review is here.**

Family Driven Faith

, by Voddie Baucham, Jr. – **My review can be found here.**
 
I do have a few thoughts on each of these books.  But, I don't want to say too much about them quite yet, as I am working on more detailed reviews for each one…to be posted in the not-too-distant future…I hope.  Of course, I also said that I wanted to participate in this meme (carnival?) a little more regularly as well, and you can all see how well that has worked out!
 
What is currently On My Nightstand?
 
The Bible (ESV) – This will always, I hope, be a constant.  I am continuing with this reading plan that I started in February…and loving it!  If you are on Facebook, check out Professor Horner's Bible Reading Plan.  (It is worth checking out even if you aren't on Facebook!)  It is thoroughly explained, easy to follow, and keep up with.  And, because you are reading a chapter from each of the major divisions of Scripture each day, it offers more variety and allows for more familiarity with the text than many of the plans out there (the one-year plan, the 90-day plan, and especially the "whenever you get to it" plan).  If you are looking for something to help you read systematically, develop consistency, and gain a better understanding of God's Word, let me encourage you to check this one out! (Oh, and on a completely unrelated note, check out my new ESV Study Bible that my sweet hubby got for me!!)
 
Created to Be His Help Meet, by Debi Pearl – After seeing this book mentioned on several homeschooling sites/blogs that I frequent, it took the recommendation of a friend for me to finally pick it up and start reading.  I am about halfway through…
 
His Word in My Heart, by Janet Pope– Another recommendation…this time from my husband!  The subtitle reads, "Memorizing Scripture for a Closer Walk with God."  Growing up in the AWANA program, the importance of Scripture memorization was ingrained in my thinking early.  And, for the most part, it has remained a constant part of my life.  However, the majority of what I memorized was a verse here, or a short passage there…occasionally a chapter, and every once in a great while, a whole book.  I believe that this is an extremely important, but all too often neglected discipline for the Chrsitian.  I am excited to read her suggestions for incorporating memorization and meditation into the busyness of everyday life.
 
Becoming A Woman of Spiritual Passion, by Donna Morley – I started this not too long ago…and am thoroughly enjoying it!  I really appreciate Donna's straightforward, biblical style, and this one is more of the same.  I think I can safely say that she is definitely among my favorite authors.
 
It is a short list this month.  There are a few other books on my "to be read" list – some I own, some I don't (yet!).  But, for now, these are the books that have made the short list, and taken up residence on my nightstand.  What's on yours?