It is once again time for 5 Minutes for Books' What's on Your Nightstand?  I love seeing what others are reading, and always end up adding another book (or five!) to my own list.
.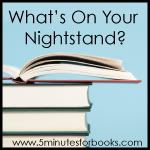 .
This is the stack on my nightstand this month:
 
.
The Bruised Reed, by Richard Sibbes
Unfashionable, by Tullian Tchividjian
Should We Leave Our Churches?, by J. Ligon Duncan & Mark Talbot
War of Words, by Paul Tripp
Worldly Saints, by Leland Ryken
Adopted for Life, by Russell Moore
The Joy of a Word-Filled Family, by John Barnett
So Much More, by Anna Sofia & Elizabeth Botkin
Nourishing Traditions, by Sally Fallon
 .
And, of course, I am still keeping up with the Bible in 90 Days!
 .
Yes, I have quite a stack! 
.
And, I couldn't help myself.  I just ordered 2 more books (Dug Down Deep, by Joshua Harris, and You Can Still Wear Cute Shoes, by Lisa McKay), and I am eagerly anticipating their arrival.  There is also a third book in there that, technically, I ordered "for my husband."  But, I am looking forward to getting my hands on it as well…when he is finished with it, of course.
.
But, those will simply replace the two books that I have already finished.  I have been reading War of Words with my ladies Bible study group, and we will be discussing the last chapter next week!  (So, I am almost finished with that one!)  And, I recently finished So Much More, by the Botkin sisters, and I am currently working on a review, that I hope to post in the somewhat near future.
.
I'd love to elaborate a little more on each book, but, the laundry pile is calling my name…loudly, and threatening to take over the entire house if I don't get in there and do something about it!  Okay, not really, but the dryer is buzzing, so I'd better get back to work. 
.
Don't forget to link up over at 5 Minutes for Books, and let us know What's on Your Nightstand this month!