Christmas is less than 100 days away.  (I won't put the actual number…but yes, I do know what it is.) 
 .
I don't know about you, but, I do not have a crafty, creative bone in my body…I wish I did!  I would love to be able to give handmade Christmas and birthday gifts…  Thankfully, I have discovered that the internet has a wealth of incredibly talented people…A few of them, I am even blessed to call friends!
 .
So, I thought I would point you to a few of my favorite online shops…full of cute, handmade treasures.  Check them out, check off a few names from your Christmas list, and help support small/home/family businesses and entrepreneurs…and maybe even help a good cause or two in the process (a few of these shops also donate a portion of their profits to causes like breast cancer research, St. Jude's, and other Children's Hospitals…).
.
 
Cherry Blossom Gifts is a store created by a dear friend from church.  She hand knits these adorable hats. Hannah has the one in this picture…and looks just like the cute little "punkin" that she is in it.  (And, I saw a similar one at Gymboree just a few weeks ago…and I have to say, I think Lena's are much cuter!)
.
.
———
 
Wired Whimsy – "Handmade Jewelry with Vintage Flair & a Dash of Whimsy"  I have one of Christy's necklaces, and I can't tell you how many compliments I get when I wear it…It is one of my favorites! 
.
And, while you're browsing her shop, be sure to check out her "Think PINK" collection:
 
October is Breast Cancer Awareness month, and  $5.00 from every "Think PINK" sale is donated to The Breast Cancer Research Foundation.
.
———
.
Visibility – handpainted custom signs, decoupaged pendants & frames
I actually discovered Alli's store when I won one of her adorable wall plaques in a giveaway – hosted by Christy of Wired Whimsy! (see above)  She has some fun items…check them out!
..
.
———
.
Joyful Blooms – is a shop full of fun hair accessories: fabric flowers, ribbon-covered clips, and covered button ponytail holders, made by my sweet friend, Joy.  I want one of each for Hannah!! 
.
.
———
.
Mayzaboo-tique – crochet gifts for all ages! Blankets, hats, scarves, bags, toys, pillows, you name it!  There isn't much in the store right now…but she has a good excuse…She just had an adorable baby boy last month! 
.
But, she is still making and selling these cute turtles (in various sizes) to raise money for their local Children's Hospital (through October 17th):
.
———
.
Rooted Studios – Handstamped clothing, onsies, and stationary…made by my sweet friend, Kat.  I love the onesies…only wish I had a little one to wear them!  And, check out the Convivium maternity shirt on her blog…
.
———
.
The Firefly Moon is a shop full of fun accessories…for your home, your hair, your clothes, or your computer!  The story behind this shop can be found on Summer's blog, The Firefly Moon.  I've known Summer since high school, and I've always been amazed by her artistic ability…you will be too!
 
.
———
.
The Rusted Chain - Beki's designs feature the best of rustic elegance and trendy looks…Each piece is custom made using sterling silver, natural stones, and the finest components. (from About The Rusted Chain) 
.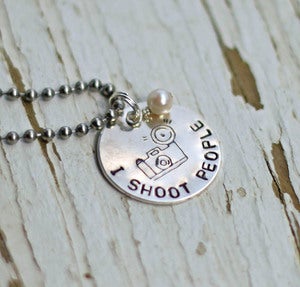 For all of you aspiring, amatuer, or professional photographers…or family scrapbookers…This shop is home to the "I Shoot People" necklace (pictured)…I have been drooling over this one for months…
.
And, take note of the items you like, and then go visit Beki's blog: The Rusted Chain…She is giving away 2 $25 Gift Certificates to her store…
.
———
.
Happy Shopping!
.
{By the way…the owners of these shops have no idea that I am doing this post.  I am not being paid, or compensated for this in any way – nor do I expect to be.  I just wanted to pass on a few favorites, that I think are worth supporting!}