"He is the image of the invisible God, the firstborn of all creation. For by him all things were created, in heaven and on earth, visible and invisible, whether thrones or dominions or rulers or authorities – all things were created through him and for him. And he is before all things, and in him all things hold together. And he is the head of the body, the church. He is the beginning, the firstborn from the dead, that in everything he might be preeminent. For in him all the fullness of God was pleased to dwell, and through him to reconcile to himself all things, whether on earth or in heaven, making peace by the blood of his cross." ~Colossians 1:15-20
Dear Friends and Family,
This year has been full of the good, the ordinary, and, a few times, the not-so-ordinary.
January: Preaching, teaching, and counseling have continued to be Jason's focus at church. He started the year with a series on "Biblical Communication." Then, after 2 ½ years, he finished his series on the book of Acts. He is currently preaching through a series on the "Commitments and Distinctives of Our Local Church." It has been a blessing to be reminded of what a special and unique place our church is, and how thankful we are to be a part of it. We had the privilege of having an intern from The Master's Seminary with us this summer…but he decided to stay for a year! He has been such a big help in so many ways, and we will all miss him when he returns to school next year. We also began a new children's program on Wednesday nights, which Hannah and Titus have both enjoyed. It has been a joy to watch our church grow in so many ways over the year.
February: Titus is now 5, and in 1st grade. This boy loves to learn! He is a great student, and genuinely seems to enjoy each of his subjects. (But, he says Math is his favorite.) He has memorized several Bible verses and passages, in addition to the books of the Bible in Generations of Grace (our church's new children's ministry), and is always ready with some great questions for his teachers! He has become a real bookworm, and reads anything and everything he can get his hands on. He got his very own library card this year, and checks out stacks of books each week…mostly on Dinosaurs, his newest passion. He loves teaching his little sisters how to correctly pronounce each of their names, and sharing random facts about them. He is a serious, thoughtful little boy who is growing up so quickly!
March: Rachel turned 2 this year! This is such a fun stage! She is a curious little girl, and loves to explore. And, she is constantly surprising us with her ever-expanding vocabulary and amazing memory! She tries so hard to keep up with her big brother and sisters, and loves do whatever they are doing. So, she has officially joined us for pre-school this year, and absolutely loves being included in our school days! She is still so young, so although she does a great job of listening, and participating in her lessons, we are leaving lots of time for play! This girl just loves life, and brings so much joy to our family. She has the best giggle, and loves to make people laugh! So far, she remains the baby of our family, but she is definitely not a baby anymore!
April: Hannah turned 12, and I am amazed by just how grown up she is. She is my right hand girl, and is a competent and reliable help each day. She loves to be in the kitchen…especially if it involves baking! But, she is also willing to help out with everyday meals, and clean up. She has continued playing the flute this year. She loves to practice, and has shown great ability and improvement over the last year, and has moved up to the Intermediate Band. She is currently busy getting ready for 2 concerts! School has been a big change for her this year. She is officially in junior high, and her classes have definitely become more challenging (for her, and her teacher!), but she is working hard, learning to manage her time, and continues to approach everything with her characteristic joy and sweetness.
May: May was a busy month for our family, and even involved a little bit of travel! At the beginning of the year, I became a consultant with HomeWorks by Precept, which represents BJU Press and other homeschooling resources. In May, I had the opportunity to travel to Arlington, Texas, to work at my first homeschool convention of the year, sharing about the curriculum that we use, and helping other homeschoolers find the best options for their family. Shortly after I returned, Jason left for Washington DC, and spent several days at Capitol Hill Baptist Church, for their "Weekender." It was a much needed time of refreshment and encouragement. He came home so excited about all he had observed and learned, and ready to apply it in our church!
June: Hannah and Titus took 2 weeks of swimming lessons this summer. Titus went from a fear of getting his face wet, to putting his face in the water, swimming (somewhat) independently, and even willingly jumping off the diving board! Hannah, made a few new friends (of course!), and went from only being able to do the most basic "doggy-paddle" to diving in, and learning several new strokes!
July: Veronica's parents, sister, and our nephew moved to Texas this summer! After spending our entire married life in a different state than one, or both, sides of our family, it is a special blessing to have all of our parents, siblings, nieces and nephews nearby! (Even if we still don't get to see everyone as often as we would like.) The kids have greatly enjoyed having all of their grandparents close, and have loved playing with, and getting to know their cousin.
August: Although we weren't in the path of totality, we enjoyed watching the (partial) solar eclipse from our front yard. We experimented with the supposed gravitational differences caused by the eclipse. And, a friend gave us some eclipse glasses so that we could all watch safely. That was on Monday. By Friday of that week, we were in the path of Hurricane Harvey. We were so thankful for the generosity of so many friends who offered us refuge, should we need it. Thousands of people were displaced due to flooding (including several of our own friends and family), and the state is still very much recovering. But, God was incredibly gracious to us, and our home and church buildings remained safe and dry.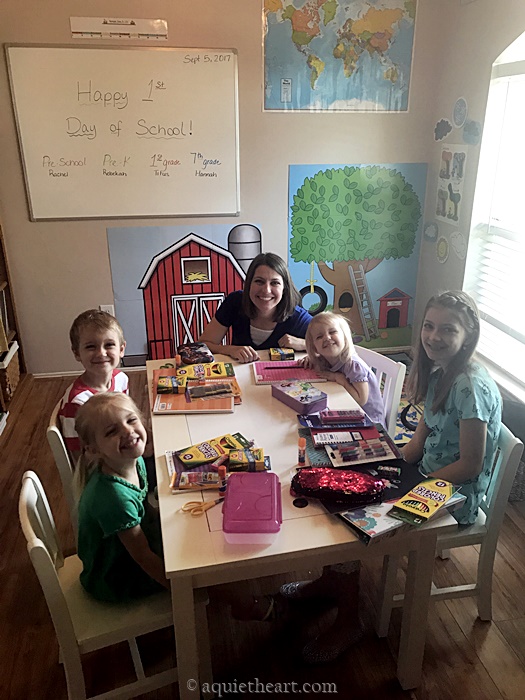 September: We started our 8th year of homeschooling this Fall. Our "one house schoolroom" is a busy place during the week. I teach 7th grade, 1st grade, Pre-K, and preschool. We rotate through a daily routine of lessons, play time, chores, errands, music practice, and general chaos. It can be exhausting at times, but it is definitely not boring. I think I say this every year, but this really might be my favorite school year yet! At the end of the month, Jason and I had the opportunity to attend his 20th High School Reunion. It was fun to spend some time wandering around his hometown, meeting/reconnecting with some of his high school classmates, and attending his high school's Homecoming football game.
October: Rebekah turned 4, and started Pre-K this year! She is my high energy girl. She runs, skips, and twirls everywhere. Sitting still and being quiet is not one of her stronger skills. But, she has really surprised me by becoming an eager and enthusiastic student. She is usually the first one ready to start our school days, and often asks for more work when she has finished. She has one volume – loud. But, she has a surprisingly shy, timid side as well, especially when she is faced with new people or new situations. I often describe her as sweet and spunky. She has her own unique style, ideas, and opinions…about everything. But, she is the tender-hearted, encourager, and cheerleader of our family.
November: We became a house divided, as the Houston Astros played the Los Angeles Dodgers in the final game of the World Series! My son even called my hometown team "the bad guys!" And, I found myself alternately cheering for both sides. Ultimately, we were all happy with the outcome…and the victory was especially sweet after all that the city of Houston has been through this year.
December: And, this month already promises to be full. We are looking forward to Christmas concerts, band and choir practices, church fellowships, Bible Studies, and time with family…all celebrating the best, most extraordinary Gift ever given.
So many years ago, in the birth of a tiny baby in Bethlehem, we were given the "image of the invisible God," in whom "the fullness of God was pleased to dwell." He was, and is, the promise of our hope and our salvation, "making peace by the blood of his cross."
What an amazing thing to reflect on, and celebrate…this Christmas, and each day of the year to come.
By His Grace,
Jason, Veronica, Hannah, Titus, Rebekah, & Rachel